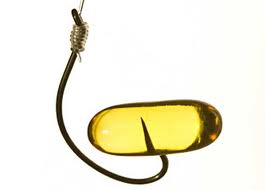 It seems everyone is recommending omega-3 fish oil these days. That is a good thing.
Recent guidelines from both the American Heart Association and American Diabetes Association have been updated and now focus on omega-3 fish oil.
Many medical doctors on television shows and in their practices are even recommending omega-3 fish oil for their patients.
So, should you be taking omega-3 fish oil? And if so, what kind should you take?
Here are seven questions you should ask about omega-3 fish oil:
1. WHAT ARE ESSENTIAL FATTY ACIDS, & WHY DO WE NEED TO TAKE OMEGA-3 EFAs?
Essential fatty acids (EFAs) are polyunsaturated fats that our bodies need but cannot produce. Therefore, they must be consumed through food or supplements. There are two families of EFAs: omega-3 and omega-6, which need to be consumed in a balanced ratio. The body must receive a balanced supply of omega-3 and omega-6 EFAs to ensure proper eicosanoids production. Eicosanoids are hormone-like compounds that affect virtually every system in the body—they regulate pain and inflammation, help maintain proper blood pressure and cholesterol levels, and promote fluid nerve transmission.
The problem is that, in our modern industrialized food system, omega-3s have become largely absent from the food chain while omega-6s have become overabundant. Even the healthiest diets contain too many omega-6s and not enough omega-3s. Decades of scientific evidence indicates that this EFA imbalance can contribute to chronic inflammation and a variety of chronic health issues. The most beneficial omega-3s that we're missing are EPA (eicosapentaenoic acid) and DHA (docosahexaenoic acid). Purified fish oil is the best direct source of EPA and DHA.
2. WHAT ARE SOME EARLY SIGNS OF OMEGA-3 DEFICIENCY?
Fatigue
Poor memory
Immune weakness
Heart problems
Joint pain and inflammation
Mood swings or depression
Poor circulation
3. CAN WE GET ENOUGH OMEGA-3s FROM THE FOOD WE EAT?
Fish is the primary food source of the omega-3s EPA and DHA, but Americans simply don't eat enough fish on a regular basis. Even those who eat fish several times a week aren't getting enough EPA and DHA because much of the fish consumed today is farm raised and lacks significant amounts of EPA and DHA. Also, many people are increasingly avoiding fish due to growing concerns about environmental toxins in fish (such as mercury, dioxins, PCBs, etc.). In addition, there are several factors that can lead to a reduced absorption of EFAs—age, poor diet, alcohol consumption, low levels of certain vitamins and minerals, some prescription drugs, compromised immune status, and a diet high in saturated and/or trans-fatty acids (meat, dairy, fast food, fried food, baked goods, and processed foods). Moreover, people with health challenges or those who are currently deficient often require a minimum of 2–4 grams a day of EPA and DHA, which is difficult to obtain from fish alone.
4. WHAT IS THE RELEVANCE OF BALANCING THE OMEGA-6:OMEGA-3 RATIO?
Over the past 100 years, changes in the food supply in Western nations have altered the type of dietary fatty acids we consume, leading to a dramatic increase in the ratio of omega-6 to omega-3 fatty acids. This increased omega-6:omega-3 ratio is known to influence inflammatory responses, contributing to higher incidences of many chronic diseases. To address this omega-6:omega-3 imbalance, current recommendations suggest increasing the consumption of pre-formed omega-3s EPA and DHA in fish and/or fish oils, increasing intake of ALA (an omega-3 alpha-linolenic acid found in vegetables, flax, fruits) and decreasing intake of LA (the omega-6 linoleic acid in meat, dairy, eggs, vegetable oils).
5. HOW SOON WILL YOU SEE RESULTS FROM SUPPLEMENTING WITH OMEGA-3 FISH OIL?
It will vary depending on the concentration of the fish oil, your current nutritional state, dosage, and current health. I often hear my patients "feel better" and experience "clearer thinking" and "enhanced well being" within 2 weeks. For optimal results, I recommend you take your fish oil daily for at least two months to evaluate their benefits, and also reduce your intake of saturated, hydrogenated, and trans-fats. I also recommend having complete lipid profile done before you begin, and after the two months to monitor whether there has been any positive change in your cholesterol levels.
NOTE: Mercy Health Center of Lake offers low-cost blood screenings the fourth Friday of each month. Held from 7 am to 11 am, cost is $2 for total cholesterol, $2 for Glucose (blood sugar), and $8 for a complete lipid profile. No appointment is necessary and walk-ins are welcome. A 12-hour fast is recommended for more accurate results.
6. WHAT IS THE DIFFERENCE BETWEEN FISH OIL AND EATING FISH?
Many people are justifiably concerned about mercury levels and other environmental toxins in fish, especially larger species. Nordic Naturals fish oils provide you with all the benefits of the omega-3s EPA and DHA, with no risk of toxicity. Nordic Naturals® oils are routinely tested by third party laboratories for purity and freshness and deliver exceptional results. All their products surpass the strictest international standards for purity and freshness.
7. WHAT IS THE DIFFERENCE BETWEEN FISH OIL AND FLAX SEED OIL?
Omega-3 EFAs fall into two major categories: plant-derived (flax seed oil, containing alpha linolenic acid, or ALA) or marine-derived (fish oil, containing both EPA and DHA). The human conversion of ALA to EPA and DHA is somewhat slow and can be inhibited by various conditions such as a diet high in omega-6, trans-fatty acids such as fast foods and baked goods, alcohol intake, certain health conditions, and vitamin and mineral deficiencies (B3, B6, C, zinc, magnesium). Fish, on the other hand, is a direct source of EPA and DHA. The scientific consensus is that humans only convert about 15% of ALA to EPA, and it may not convert to DHA at all in many people.
BONUS: WHAT SHOULD YOU LOOK FOR WHEN PURCHASING A FISH OIL SUPPLEMENT?
Third-party test results for purity and freshness. A third-party certificate of analysis indicates the levels of purity from environmental toxins, and the oxidation level (or freshness) of the oil.
Manufacturing standards. Is the fish oil manufactured according to international quality standards?
Smell and taste. Does the fish oil smell or taste fishy? If so, the fish oil has most likely been exposed to oxygen and is becoming rancid. Rancid (oxidized) oils should be avoided, as they yield less-than-healthy effects. Avoid fish oils that have really strong flavorings added to them because they are most likely trying to hide the fishy flavor of rancid oil.
People with health challenges or those who are currently deficient often require a minimum of 2–4 grams a day of EPA and DHA. If your supplement is not concentrated, you often end up having to take as many as 6-8 capsules a day to achieve 2–4 grams.
Supportive scientific research to prove the efficacy of the fish oil brand.