Last week, Hartville Health & Wellness Centre became the first chiropractic facility in the Akron-Canton area to begin using the new Activator V (called the Activator five). The Activator is the adjusting instrument more doctors use to deliver low-force chiropractic manipulations.
Adjusting instruments provide a controlled, fast thrust that is comfortable for the patient. In fact, instrument adjustments are so quick and measured, the body's muscles are less likely to resist, allowing for a more precise and accurate high-velocity, low-amplitude manipulation.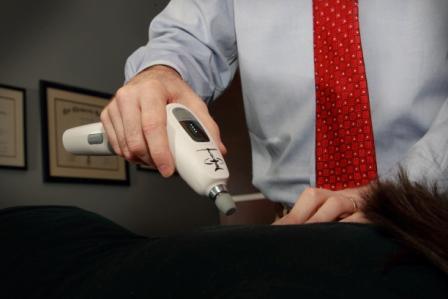 Because of its effectiveness and gentle nature, the Activator Method has grown to become the world's most widely-used instrument chiropractic technique. The newest Activator instrument used by Dr. Weisel marks the next step in the natural evolution of Activator adjusting devices.
Instead of a mechanical spring generated force, the force in the Activator V is generated by a custom-designed linear solenoid. The result is an even more comfortable adjustment for the patient, and easier use by the chiropractor.
"The result is an even more comfortable adjustment for the patient, and easier use by the chiropractor."
[spacer size="15″]
Chiropractic adjusting instruments have been around for many years — although there is considerable variability in the quality of the force they produce and the skill level of the doctors using them. Activator instruments are the most widely used adjusting instruments in the world.
The forces produced by the newer generation of instruments are not only more comfortable for the patient, they are more likely to produce even better clinical results. This means you may feel better even faster.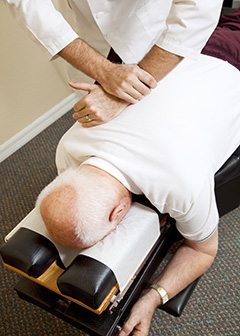 Many chiropractors without the specialized training in instrument adjusting still use their hands to perform chiropractic manipulation. This can present problems for patients who are in severe pain or have conditions such as disc problems, arthritis or osteoporosis that makes it difficult for them to tolerate traditional manual manipulation.
Even for healthy patients, it can be a disconcerting to have their neck or back twisted, pulled and "cracked." Any tension can make the adjustment uncomfortable or even ineffective. The more comfortable the patient is, the better it is for spinal adjustments.
Activator instruments have been used safely and effectively on patients of all ages since the late 1960's, bringing relief to people with a variety of health concerns.
If you would like to experience the new Activator V, call today!