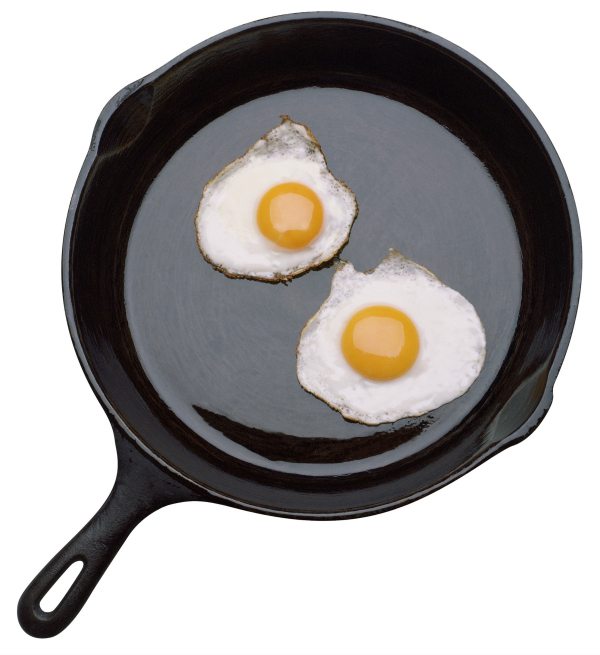 We have all heard the saying, "Breakfast is the most important meal of the day." Well there is a lot of truth to this statement. Having a good, quality breakfast can help prepare your body for the day ahead. We want to choose foods that are wholesome and provide good fuel to give us energy from the fasting that our body has gone through during the night. Here are three great options that you can prep ahead of time to keep you energized all week long!
Egg Cups
Eggs are hearty, containing 6 grams of protein and 5 grams of healthy fat per large egg, and they are loaded with other nutrients including; Vitamin A, Vitamin E, Vitamin B12, B2, B5, Phosphorous, Selenium, and Choline to name a few. What I especially love about these egg cups is that you can change them up and add whatever you want. The possibilities are endless! For the ones I made this week, I used eggs and lean turkey sausage.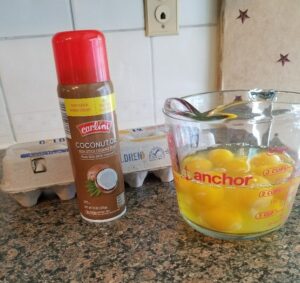 Step 1: Brown 1 pound of lean turkey sausage on the stove for 5-10 minutes. Drain off any grease and set aside. Preheat oven to 350 degrees.
Step 2:Take a 12 count muffin tin and spray with coconut oil.
Step 3: Evenly divide about 1/2 pound of the turkey sausage among the 12 muffin tins.
Step 4: Crack 12 eggs into a bowl, add a pinch of sea salt, and pepper to your liking and stir until combined.
Step 5: Pour the eggs so that they are evenly divided into the muffin tins (about 3/4 the way full).
Step 6: Place eggs into 350 degree oven for 20-25 minutes.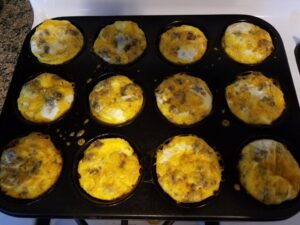 I find I like to mix it up with different toppings each week. I have used spinach, zucchini, peppers, onions, mushrooms, sweet potato, baked ham, cheese, broccoli. You can get as creative as you want with these and it's fun for the kids to help and make up their own creations.
Fruit, Granola, and Greek Yogurt Jars
Greek yogurt packs a punch of protein and fruit contains a natural boost of sugars, antioxidants, and anti-inflammatory properties. This is another great option for breakfast because it is filling and will keep you satisfied for a few hours.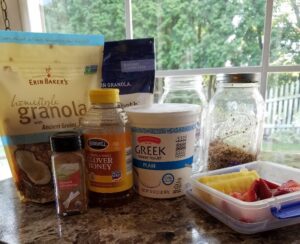 Step 1: First, I like to portion out my fruits so I sort whatever kinds I am going to use for the week into 1 cup packages. I like to use two kinds of fruit for each yogurt bowl (1/2 cup of each) strawberries and blueberries, blackberries and raspberries, pineapple and pomegranate, and so on. Set aside.
Step 2: Portion out 3/4 a cup of plain Greek yogurt into the bottom of some mason jars. (You may use vanilla Greek yogurt if you prefer but the ingredients will be much higher in sugar content.)
Step 3: Place the portioned 1 cup of fruit on top of the yogurt.
Step 4: Measure 1/2 cup of store bought granola and put on top of the fruit. I like to use Purely Elizabeth (Blueberry Hemp Ancient Grain Granola) or Erin Baker's (Coconut Chia Homestyle Granola with Ancient Grains) because these have good ingredients and not too much extra sugar.
Step 5: Drizzle about 1 tablespoon of honey and a few dashes of cinnamon on top and seal the jar and your breakfast is ready to go!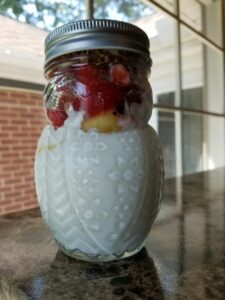 Bonus: Easy homemade granola: I like to make my own simple granola when I'm feeling extra perky. It is really good and worth the extra time and I just store it in a mason jar and it lasts several weeks.
1:Preheat oven to 350 degrees.
 2: Mix 3 cups of steel cut oats and 1 cup of raw chopped almonds in a glass baking dish and toast them in the preheated oven for 10-15 minutes, stirring occasionally. Mine usually takes about 15 minutes just watch in the oven times may vary slightly.
 3: While the oats are toasting, combine in a small bowl 1/2 cup of raw honey, 2 teaspoons of melted coconut oil, 1 tablespoon of  cinnamon, and 1 teaspoon of vanilla extract.
4: After the oats are toasted, drizzle the honey mixture over the oats. Stir until well combined.
5: Place the baking sheet back in the oven and turn the oven OFF. This will allow the granola to finish toasting without burning. Let it sit in the oven for 5-8 minutes. Remove from oven and let cool completely before putting in the yogurt jars or storing
6:Portion the 1/2 cup of homemade granola onto the top of the fruit in your mason jars.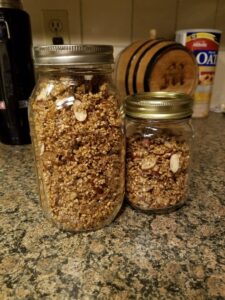 Dark Chocolate Chip Zucchini Muffins
Last but not least my family's personal favorite!! I mean who doesn't love chocolate? Did you know that dark chocolate has antioxidants and can help regulate blood pressure and blood sugar? These muffins take a little bit more time about 45 minutes total but they are worth every bit of time spent. I promise you are going to want to devour one of these babies. They are about as healthy as a chocolate chip muffin can get and sprinkled with lots of healthy ingredients plus a little breakfast treat.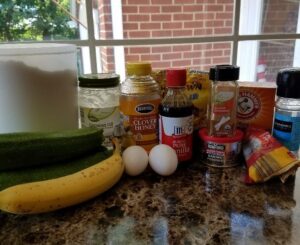 For this recipe you will need:
2 cups shredded, unpeeled zucchini (Usually takes about 3 medium sized zucchini)
1/2 cup mashed ripe banana (1 large very ripe banana-makes it easier to mash)
1/4 cup melted and cooled coconut oil
1/4 cup honey
1/4 cup brown sugar
1 teaspoon pure vanilla extract
2 large eggs, at room temperature
1 teaspoon ground cinnamon
1/2 teaspoon baking soda
1/2 teaspoon baking powder
1/2 teaspoon kosher salt
2 cups white whole wheat flour
1/3 cup mini dark chocolate chips
Step 1: Preheat the oven to 375 degrees F. Lightly grease a standard 12-cup muffin tin or line with paper liners.
Step 2: Grate the zucchini, then thoroughly squeeze it with a paper towel to remove as much excess water as possible. Repeat as needed. If you have not already, melt the coconut oil and let come to room temperature
Step 3: In the bowl of a standing mixer or a large mixing bowl, beat together 1 large mashed banana, 1/4 cup honey, 1/4 cup brown sugar, 1/4 cup coconut oil (melted but cool), and 1 teaspoon vanilla extract until smooth. Add the 2 eggs (make sure they are room temperature or the coconut oil may re-solidify), then beat again until combined.
Step 4: Sprinkle 1 teaspoon cinnamon, 1/2 teaspoon baking soda, 1/2 teaspoon baking powder, and 1/2 teaspoon salt over the top of the batter, then mix to combine. Sprinkle in 2 cups whole wheat flour, a little at a time, while mixing at low speed just until the flour is combined. By hand, fold in the shredded zucchini and 1/3 cup mini dark chocolate chips.
Step 5: Scoop the batter into the prepared muffin cups, filling them 3/4 of the way. Bake for 20-25 minutes, until a toothpick inserted in the center comes out clean. Remove the muffins from the oven and place the pan on a wire rack. Let cool for 5 minutes in the pan, then place them on a wire rack to cool.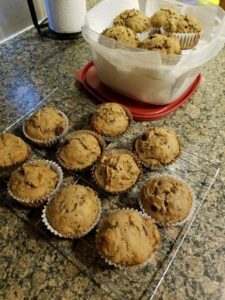 I hope these easy breakfast preps help your mornings run a little smoother and give you a satisfying boost of energy! If you try them out let me know your creations and which was your favorite!