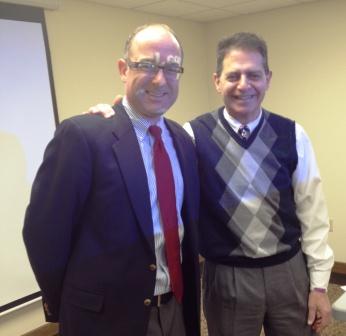 It was really great to co-present with Jeff Reale, physical therapist from Concorde Therapy in Hartville! Jeff and I had the privilege of speaking to the Morning Connections Networking group that meets at Consumers National Bank in Hartville.
This new presentation, called "Keep Work From Killing You," was inspired by the best-selling book by Tom Rath entitled Eat Move Sleep. Great book, by the way. I highly recommend it!
Jeff and I tag-teamed to give the audience our own unique perspectives on the topic as physical medicine specialists.
The focus of the first part of the talk was on embedding more physical activity into the work day including everything from exercise breaks to standing work stations. Then we moved on to how a lack of sleep effects everything from productivity to creativity and alertness on the job.
Call 330-877-3177 if you would like to have Dr. Weisel speak to your group on the topic of eating, moving or sleeping.
---