Hanging by one's ankles does remove the force of gravity from the discs in the lower back, but it also places a lot of undo strain on the knees, ankles and other joints in the process. Generally, in my opinion, the risks outweigh the benefits for most people with lower back disc problems.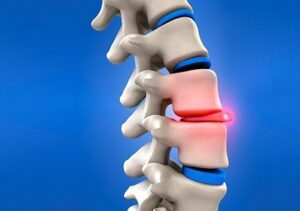 Instead, I recommend the BackHealth™ exerciser for people with lower back disc problems. The BackHealth™'s exercise program aggressively stretches the spine, especially the lumbar region where most of daily stress accumulates. In addition to actually stretching the lumbar region of the spine, BackHealth™'s program builds muscle strength as it re-establishes correct lift dynamics.
Starting from the bottom up, correct lift dynamics begin in the calf muscles, include the hamstring groups, the gluteal muscles, and end up with the spinal erector groups and the interspinalis muscles. Neck and shoulder muscles also collaborate in a proper lift dynamic. Inversion accomplishes none of these key remedies. Re-establishment of this dynamic cannot be omitted from real spinal rehabilitation.
Regardless of how your back pain is treated, whether it involves surgery or chiropractic care, you will never have a fully functional back until and unless you build your own. No one can do it for you.